End of September – Changing Seasons
September is a sassy month – this time the sun is still burning but it is already mixed with the fall breeze. You are wearing shorts but mornings are so chill that you need the warmth of a cosy sweater.
Our End of September lookbook was inspired by the fusion of August and September, how summer vibes get milder and slowly replaced with fall. Vivid warm colours meet light cool ones combined with exhilarating, contrasting cuts and textures. We located the minimal elegance into a calm, peaceful atmosphere close to nature which is the metaphor of autumn for us.
In the first outfit of Ádám, he wears a pair of light coloured, checked beige INQ trousers combined with a more pronounced hazel Grandpa leather shirt which are in excellent contrast and grant an outstanding appearance. We matched the sunburnt orange with neutral wheat colour to represent the wide range of colours of the season. To make the look complete, Ádám wears a pair of black Grandpa slippers with warm brown socks similar to the shirt – the slippers remind us to the hot summer days but the socks drives to the cooler weather.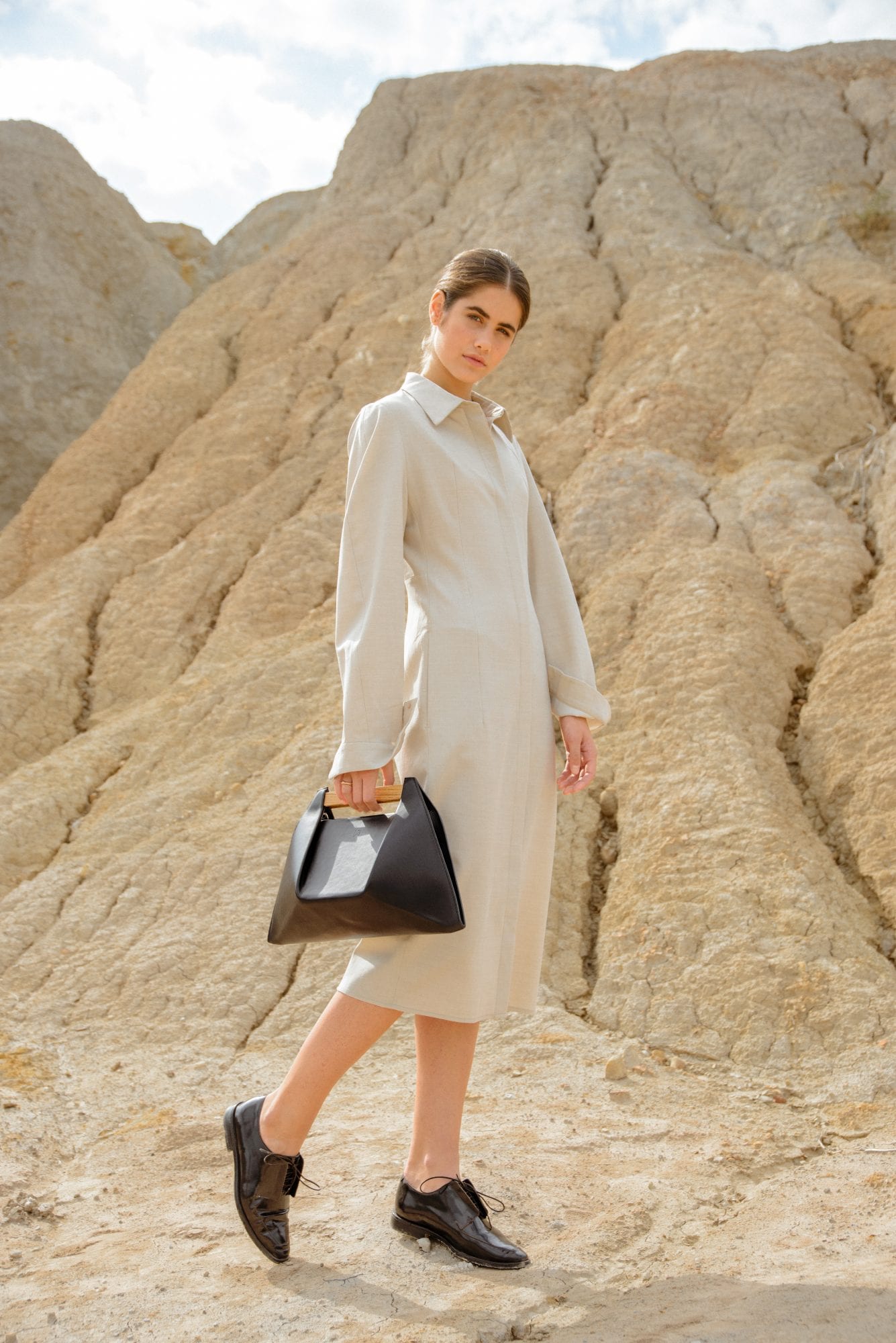 Viola wears a sophisticated slim fit COS shirt dress completed with the gorgeous, iconic matte handbag of AgnesKovacs in black colour which is characterized with strict geometry. To alleviate the sharp contours of the bag, we finished the look with a pair of round-toe COS lacquer brogue shoes. The MamaKin jewellery turns up with warmer shades to refresh the appearance – the dainty jewellery, the mini sun earrings, and the popular coin necklaces perfectly piece out the dominant clothes but let them prevail at the same time.
The second outfit of the models are the perfect inversions of each other. The colour of the knitted Kele sweater on Ádám is in harmony with the refined INQ pencil skirt Viola wears. Therefore, the INQ checked trousers are in similarity with the COS shirt which we half tucked into the skirt to ensure an impressive asymmetry for the look. This colour selection is the proof of that light neutral hues fit both women and men.
We also selected accessories that top up the outfits. Viola has a pyrite Wessely ring what, with its rustic rawness, offsets the elegant Hodina watch with mesh straps Ádám wears, in which the black colour of the slippers returns and grants a flawless finish.